Two compact SUV models - the Honda CR-V vs. Mazda CX-5 - have drawn rave reviews from numerous drivers because these SUV models have versatility up and down their lineup. Our vehicle experts have laid out a comprehensive comparison of two models that seek to bring their customers a complete SUV experience in a smaller size. Never again will you feel like your sedan isn't enough to stretch your arms in or that your full-sized SUV can't fit into the last spot on the curb.
The more familiar you get with the Honda CR-V dimensions and how they compare to the premium performance embedded within the Mazda CX-5, the more excited you'll get about adding an all-encompassing compact SUV model to your garage's roster.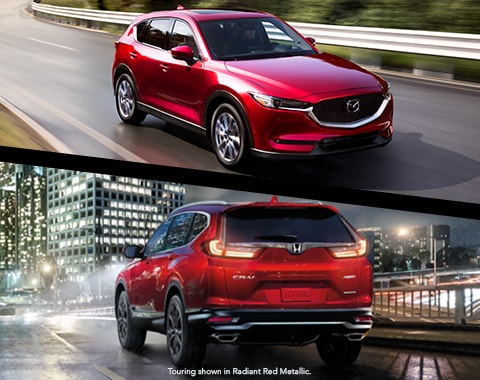 We've Got SUV Models Available With Great Gas Mileage/MPG
No matter which model meets your fancy, your next SUV has to be a car that can carry you and your family far without having to stop. Drivers have isolated these two models - the Mazda CX-5 or Honda CR-V - as some of the most fuel-efficient options for those that are fans of the turbocharged SUV. Get plenty of substance to stack up behind your size when you sign up for the Mazda CX-5, a surefire crossover that promises impressive figures of up to an EPA-estimated 31 miles per gallon.1
One thing that separates our dealership from others is that we have a wide range of cars that includes the alluring new MAZDA SUV models, as well as certified pre-owned used Mazda CX-5 for sale models too.
Compact SUV Dimensions: Interior Space, Cargo, Leg Room
You won't be disappointed when you dive into the dimensions of the CX-5 vs. Honda CR-V SUV models. These frames may not be as big as some of the more sizeable options in the Honda and MAZDA large-car lineup, but they certainly can hold their own. Make a massive impression on the pickup line, at the grocery store, and on the highways near your house in a car that can carefully carry your most precious passengers wherever they need to go with ease.
You'll find plenty of room to stack suitcases, backpacks, and the like inside both the Honda CR-V vs. Mazda CX-5, but the way the two cabins tie everything together is where they differ. There is plenty of room for you to stretch out your arms and legs in any seat, and the seating arrangement can be easily adjusted. Premium materials clothe the entire cabin in comfort, and the available heated seats up front make every frosty morning a little more toasty on the way to school.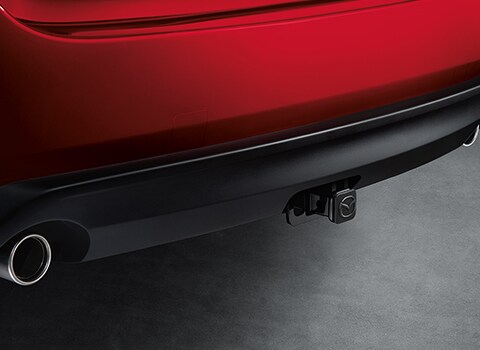 Honda CR-V vs. MAZDA CX-5: Towing Capacity & Performance
The towing capacity sits at a stout 2,000 pounds for the seven trim levels of the Mazda CX-5 when properly equipped,2 whereas the Honda CR-V comes up a little shorter at up to 1,500 pounds when properly equipped.
For those wondering about what happens when the roles are reversed and your SUV needs a tow, we've got an easy guide to towing a Mazda CX-5 right here. Our in-house vehicle experts know each of our models down to the most minute detail, which is why they're the best people to consult when you want to know more. Do not assume that towing is the same across the board, and make sure to consult our guide and your manual before moving forward with any towing job involving your next SUV.
2021 Mazda CX-5 Sport

vs

2021 Honda CR-V LX

$25,270
starting MSRP3
$25,350
25
MPG (Combined)
30
Regular Unleaded I-4 2.5 L
Engine
Regular Unleaded I-4 2.5 L
Automatic
Transmission
Automatic
FWD
Drivetrain
FWD
186 pound-feet
Torque
179 pound-feet
3,691 lbs.
Curb Weight
3,337 lbs.
17" aluminum-alloy wheels
with Gray Metallic finish

Wheels
17" aluminum-alloy wheels
with machine finish
FAQs About Honda CR-V vs. MAZDA CX-5
Because these models are matched up so often by online car reviewers, we get a lot of questions comparing the Honda CR-V vs. Mazda CX-5 inside our showroom. Here are some of the questions our staff members find themselves answering all the time. If you have a question, don't hesitate to reach out and give us a quick call or visit.
Is the MAZDA CX-5 bigger than Honda CR-V?
The Mazda CX-5 is marginally less long by 3 inches and is half-an-inch less wide. Most cabin measurements are within a couple of inches, such as how high each cabin is off of the ground, the wheelbase, and more. If you're looking for an SUV of a different size, perhaps go up to a larger option with three rows. That won't be a differentiating factor here, though, since both of these crossover compact SUV models are of such similar size.
Which is more expensive: MAZDA CX-5 or Honda CR-V?
This is another area where the Mazda CX-5 blazes to the finish line in first place. The checkered flag has to go to the starting price of $25,370 MSRP.3 While the Honda CR-V has a starting price point that's not much more, it doesn't have rain-sensing wipers or remote entry. It doesn't have a push-to-start function either.
Can a MAZDA CX-5 tow?
Not only can this SUV tow, but the Mazda CX-5 towing capacity outpaces the larger Honda CR-V model by approximately 500 pounds or so. That's enough for an additional all-terrain 4x4 vehicle, jet ski, or kayak trailer. If you want a smaller SUV model that you don't have to worry about fitting into a spot in a tight parking garage but also with some strength on its side, this is the call to make.
Dive Deeper Into Crossover SUV Prices
We encourage you to look through all the trim levels of this dynamic duo before making your decision. There are 12 trims to choose from between both crossovers, and you can't consider your decision to be an educated one until you learn more about the engine inside the Honda CR-V hybrid, the stylish leather-trimmed accents of the Mazda CX-5 Grand Touring trim, and how each model distributes features across their whole lineup.
For a closer look at how one of our MAZDA SUV stars compares to another fierce rival, review our Mazda CX-5 vs. Hyundai Santa Fe comparison as well. When you're ready to add another compact SUV to your driveway, come see all that our dealership has to offer. We can't wait to send you on your way with a hearty hauler that exceeds your expectations more every time you leave the house