Mazda CX-50 Colors: Explore The Different Options

Add some style to your next adventure with the Mazda CX-50 colors. This rugged yet refined SUV is ready for whatever the road (or lack thereof) holds, and while you conquer those wild trails, your Mazda CX-50 will be prepared to turn heads along the way. Learn more about the available Mazda CX-50 colors below, and visit Dyer Mazda to see their premium sheen in person.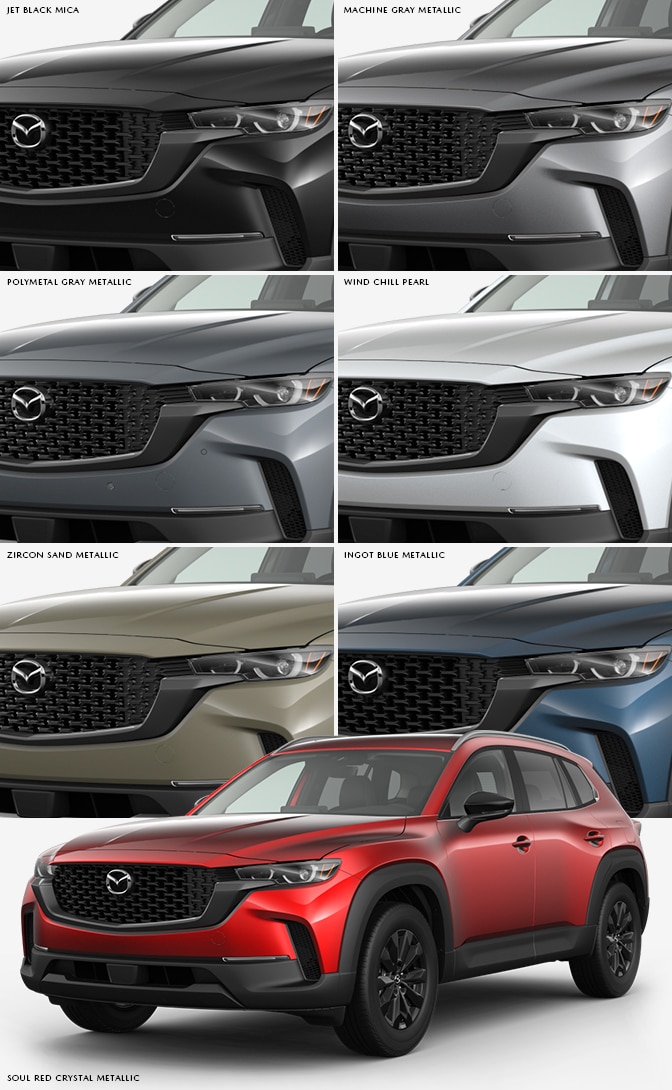 Mazda CX-50 Colors: Your Exterior Options
As you explore the Mazda CX-50 colors, you'll find familiar hues with surprises waiting to discover. When configuring your perfect Mazda CX-50, you'll be able to choose between:
Jet Black Mica
As the sun crosses the horizon and the shadows grow long, your Jet Black Mica Mazda CX-50 will blend right in. It's a classic shade of black that shines in direct sunlight and turns into a subdued silhouette as the light fades.
Machine Gray Metallic
Machine Gray Metallic highlights the sculpted body lines of your Mazda CX-50 with steel-like looks that dance in the light. It shifts from bright to deep gray tones in an instant, reflecting the dynamic nature of your Mazda CX-50.
Polymetal Gray Metallic
Is it pale blue, or is it gray? The answer is a mix of both hues. A Polymetal Gray Metallic Mazda CX-50 for sale is a striking work of art that stands out on the road and looks right at home when the pavement ends.
Wind Chill Pearl
Exploring foreboding trails requires a cool head and behind-the-wheel composure. With the bright white hue of Wind Chill Pearl, your Mazda CX-50 will look as cool, calm, and composed as you are.
Zircon Sand Metallic
If dunes and wide-open beaches are your preferred playground, a Zircon Sand Metallic Mazda CX-50 will be your preferred color. Its sand-like tone blends in with some greener hues, resulting in a sleek yet adventurous look.
Ingot Blue Mica
Ingot Blue Mica is a vibrant blue that mixes subtlety and eye-catching style, but it offers more than just a rich hue; it offers a harmonious shade that works with the Mazda CX-50 SUV's mix of ruggedized bodywork and sleek lines.
Soul Red Crystal Metallic
For the backroad enthusiast who brings a spirited outlook to every adventure, Soul Red Crystal Metallic will add an exciting look that reflects your determination, fun-loving style, and refusal to blend in with the crowd.
Mazda CX-50 Interior Color Options
The Mazda CX-50 interior colors are just as exciting as the exterior colors, with outdoor inspirations that strike a chord with your adventurous spirit. Choose between:
Black Cloth
Black Cloth is specially-tailored to mirror the types of fabric that form your camping backpack. It's durable yet remains soft and comfortable even after hours of exploration.
Black Leatherette With Gray Accents
For a more premium cabin, Black Leatherette will have you sinking into the gray-contrast-stitched seats. But, with a focus on durability, you won't need to think twice as you pack up your campsite.
Black Leather With Brown Accents
Explore onwards in the lap of luxury; a Black Leather Mazda CX-50 is the plush overlanding machine you deserve. With brown contrast stitching to boot, it's the perfect blend of style and strength.
Terracotta Leather
This exclusive upholstery is more than just comfortable and durable; the premium leather takes inspiration from the deep, calming tones of untouched soil you'll find in the forest's depths.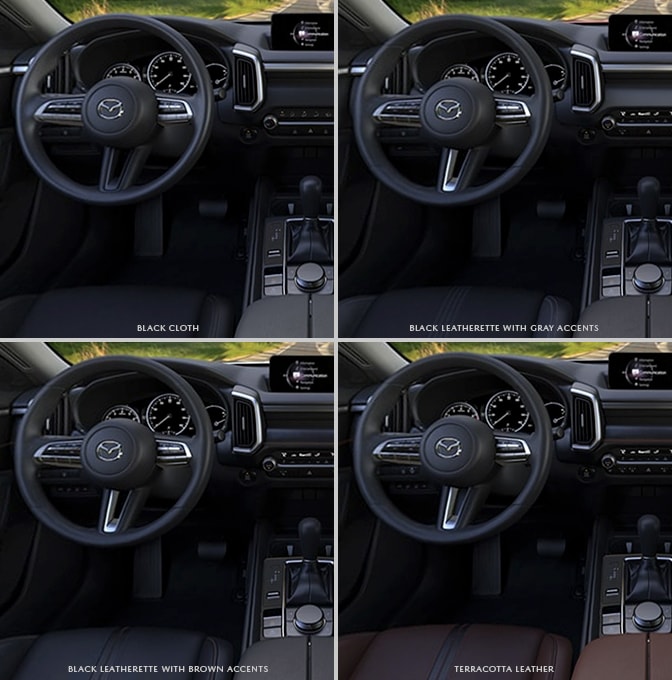 Discover the Mazda CX-50 Colors at Dyer Mazda
Whether your perfect Mazda CX-50 configuration involves a Zircon Sand Metallic exterior and Terracotta Leather interior or a Polymetal Gray Metallic exterior and Black Cloth interior, our premier Mazda dealership in Florida can help you find your perfectly-painted Mazda CX-50. Get in touch today to learn more.
Frequently Asked Questions About The Mazda CX-50 Colors
The available exterior Mazda CX-50 colors are as follows:
Jet Black Mica
Machine Gray Metallic
Polymetal Gray Metallic
Wind Chill Pearl
Zircon Sand Metallic
Ingot Blue Mica
Soul Red Crystal Metallic
On the inside of your Mazda CX-50, you can choose between:
Black Cloth
Black Leatherette With Gray Stitching
Black Leather With Brown Stitching
Terracotta Leather
Polymetal Gray Metallic is an artistic blend of pale blue and deep gray. It's a unique mix that dances and shifts with the light, providing a new look every time you glance at your Mazda CX-50.
Machine Gray Metallic is a sculptural gray paint scheme that dynamically bounces between gray hues depending on lighting conditions. It achieves this effect with a premium tri-coat process that layers a black base coat with an aluminum-flake coat and then finishes them with a deep clear coat.
Make an Inquiry
* Indicates a required field