Which SUV is Better?
If you're on the hunt for a Toyota RAV4, compare it to a worthy opponent like the new Mazda CX-5 SUV. The comparison of Toyota vs. Mazda has circulated the automotive industry for a long time. Both OEMs have a positive reputation for generating crossovers with immense capabilities. If you reside near Port St. Lucie, FL, and you're looking to explore the ins and outs of the CX-5 and RAV4, you're in the right place. Below is our take on the comparison of these two SUVs.
A Performance Comparison
Both vehicles provide drivers with powerful engines and reasonable horsepower ratings, but only one top engine provides added value. The CX-5's top engine offers additional power in comparison to the RAV4, which offers more horsepower with the base engine.
2019 MAZDA CX-5 Specifications
Base Engine: 187 hp Skyactiv®-G1 2.5L DOHC 16-valve 4-cylinder with Cylinder Deactivation
Top Engine with 93 octane premium unleaded fuel: 250 hp 2.5L 4-cylinder engine with 6-speed automatic transmission
2019 Toyota RAV4 Specifications
Base Engine: 203 hp 2.5-Liter Dynamic Force 4-Cylinder engine
Top Engine: 219 combined system net hp 2.5-Liter Dynamic Force 4-Cylinder engine with DOHC 16-Valve
If you're looking to upgrade to the highest trim on either model, it appears that it is better to choose the 2019 CX-5 Signature SUV with its 250 horsepower rating. If you're spending that kind of money on a ride, you need to ensure it offers added power.
The new 2019 Mazda CX-5 has a powerful new engine with a high-end interior. It also offers a stable chassis design, making it more aerodynamic. If you're interested in exploring new Mazda SUVs for sale, talk to our team! As a local Mazda dealer, it is our job to provide you with an excellent car shopping experience.
An Interior Comparison
If you started this journey by searching for a new Toyota RAV4 for sale, then you probably know a lot about its competitors. The 2019 Mazda CX-5 and the 2019 Toyota RAV4 are very similar, but the CX-5 offers better interior options and amenities. Compare the following SUV interiors and see which one offers better features.
2019 MAZDA CX-5 Features
Cooled/Ventilated Seats: Available
Bluetooth®: Standard
Keyless ignition: Standard
Parking assistance: Available
Heated Seats: Available
Upholstery: Available Premium Leather
Sunroof: Available
2019 Toyota RAV-4 Features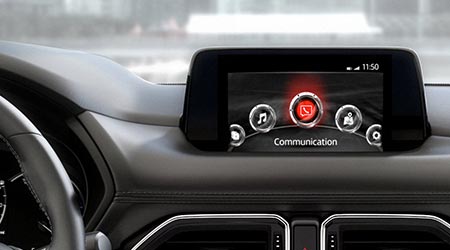 Bluetooth®: Standard
Keyless ignition: Standard
Parking assistance: Standard
Heated Seats: Not Available
Cooled/Ventilated Seats: Available on highest trim
Upholstery: Cloth
Sunroof: Not Available
Lease the MAZDA CX-5 at Dyer Mazda
With our Mazda lease offers, you can get the most out of the new Mazda CX-5 without sacrificing time and money. You can sign up for a short lease term and upgrade as the 2020 Mazda CX-5 makes its debut.
While you shop for a new SUV, you can compare the specs between different CX-5 trims and ask about the benefits that come with our incentive programs. The financial experts at Dyer Mazda are here to help you!
We offer a range of auto financing options, including the latest Mazda lease deals. Thanks to our selection, you can explore a new Mazda CX-5 lease in person or online.