When tragedy hits, we want to be there ⁠- that's the Dyer Difference. Mazda Capital Services is offering a 90 Day Deferment Program and Mazda will be offering a $750 Disaster Relief Assistance incentive with qualifying purchases. We hope that these programs will offer some solace, if any, during the wake of Hurricane Dorian..
The Hurricane Dorian Disaster Relief Assistance Program*
From September 6th until December 2nd, we are offering the $750 Hurricane Disaster Relief Assistance incentive to all customers who buy or lease a new 2018, 2019 or 2020 Mazda vehicle. To get begin the process, you can apply for financing online now.
Eligibility
This incentive is designed to help those who have been adversely impacted by Hurricane Dorian, so it is only available in select states.
If you live in the following states, you are eligible to receive this incentive:
Georgia
Florida
North Carolina
South Carolina
Virginia
We hope that customers can use this program to get back on their feet after a hard time. You are welcome to combine the Mazda Hurricane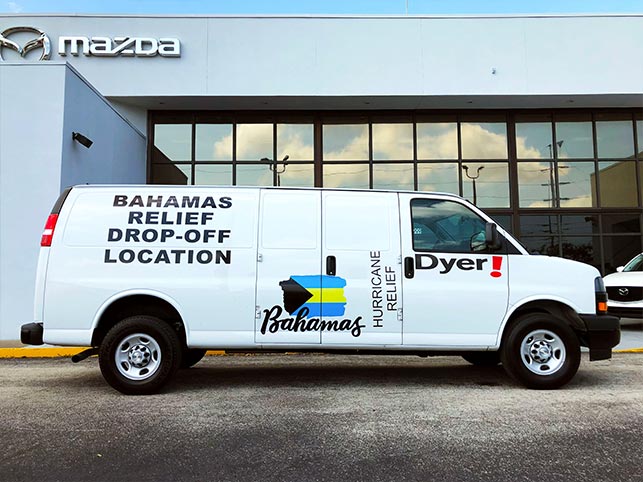 Dorian Disaster Relief Assistance incentive with other offers, including Customer Cash, Lease and APR incentives.
You can even combine this incentive with the Mazda Loyalty Incentive or the Military program! If your loan or lease application is approved, we can move forward with the incentive information and get you behind the wheel of a qualifying new Mazda vehicle.
How to Get the Incentive
Bring your driver's license and proof of residence to the dealership. We will also need a copy of your vehicle's insurance claim, or insurance/adjuster provided letter (with a letterhead) noting the damage and/or total loss. The dates must be within the range of 9/2/19 to 9/13/19, as a direct impact of the hurricane.
90 Day Deferment Program
Thanks to this deferment program, you can defer your first payment on any new 2019 or 2020 Mazda vehicle, for up to 90 days*. We encourage drivers to talk to our finance department about this offer, as you cannot combine it with every offer on our website.
To qualify, you must meet the following requirements set forth by Mazda Capital Services:   
A credit score of 700 or higher for all borrowers
   
Business borrowers must have an individual as a co-borrower
   
Minimum 5-year credit history
   
Zero repossessions, bankruptcies or foreclosures
   
Standard credit criteria
   
Must purchase a new 2019 - 2020 Mazda (leases are ineligible)
   
Max. term is 60 months
   
Max. amount financed is $50,000, including Tax, Title and License as well as permitted aftermarket products
If you have any questions surrounding eligibility, feel free to contact our Mazda dealership.
*Disclosure for The Hurricane Dorian Disaster Relief Assistance Program: Mazda reserves the right to inspect all dealership records during normal business hours and to disqualify any sales not made or reported in accordance with program rules. Mazda also reserves the right to charge the dealer for any and all of Mazda's costs and employee expenses of auditing and for any and all payments to the dealer if Mazda's inspections reveal incorrect reporting or any failure by the dealer to follow program rules. Mazda may decide any questions of eligibility, or any other matter relating to the interpretation, scope, or application of its programs and any rule hereof, in its sole discretion and such decision shall be final and binding upon all dealers. Mazda also reserves the right to cancel, amend, or revoke the program at any time upon written notice.

Certain restrictions may apply based on DMV Registration ZIP Code. See dealer for details.
The Mazda Hurricane Dorian Disaster Relief Assistance has no cash value and must be applied within the purchase or lease structure, as a capital cost reduction.
Program does not include:
2017MY or older Mazda Vehicles, F (Fleet), Insurance, Dealer Daily Rentals, Buy-Back Vehicles, vehicles that have model-year payoff incentives applied.
Vehicles intended for export or brokered units, G, C, L, and P Code Units, or any other commercial entities
*90 days from the contract date on subvented or standard retail contracts with a maximum term of 60 months, submitted to MCS. See your Mazda Subvented APR Programs for availability.
Disclosure for 90 Deferment Program:
Since the first payment will be more than 30 days after the start date of the contract, more interest will accrue. The accrued interest during this extended first period is included in the calculation of the monthly payment, causing the customer's monthly payment to be higher than if the first payment had been scheduled to begin 30 days or less from the start date of contract.
All applications subject to credit approval by JPMorgan Chase Bank N.A. through Mazda Capital Services (MCS) and programs may change at any time. Not all programs available in all states.