2022 MAZDA CX-50: Release Date, Interior, Price, Specs

Reserve Yours Today
Its full form has been unveiled, and the 2022 Mazda CX-50 release date is now closer than ever. So, what is it? It's the first model built at the new factory in Huntsville, Alabama, but that's only part of the story. The Mazda CX-50 is a crossover SUV with a rugged yet elegant spirit. It's the first of three new MAZDA SUV models, and it's a tech powerhouse built for the outdoors. It's luxurious and engaging in a way that competitors can only dream of achieving.
We'll walk you through what makes it all possible and the details you should know about this new SUV on this page. Once it arrives, we'll be honored to be your trusted MAZDA dealer in Florida.
When is the 2022 MAZDA CX-50 Release Date?
At our time of writing, the official 2022 Mazda CX-50 release date is not set in stone. That said, it was set to unveil at the Los Angeles Auto Show, and indeed it was. The official production estimate is around the start of 2022, with arrival set for spring 2022. So, it's not too far away.
But it won't arrive alone. The new Mazda CX-70 and Mazda CX-90 will be released shortly after, with the Mazda CX-90 replacing the Mazda CX-9. The Mazda CX-50 will not be replacing any current models but will stand as a unique model in the lineup, arriving alongside the refreshed 2022 Mazda CX-5, too.

2022 MAZDA CX-50 Dimensions
There are no detailed 2022 Mazda CX-50 dimensions at the moment, but we do know that it's a compact crossover SUV. At its core, the Mazda CX-50 is based on the same platform as the Mazda CX-30. Further dimensions we know about are seating for five and a longer interior than the Mazda CX-5, with more space for back-seat passengers. It's also taller than the Mazda CX-5, with increased ground clearance for off-road fun.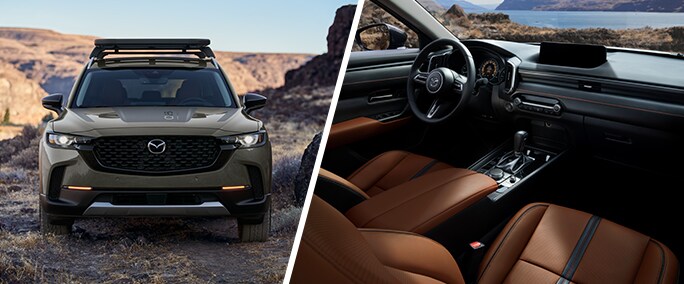 2022 MAZDA CX-50 Performance
Within the range of new MAZDA SUVs for sale, the Mazda CX-50 will also be a peppy, fun-to-drive addition, expected to share a proven engine, but with new tricks to enhance the fun. We expect it will use a SKYACTIV®-G 2.5-liter four-cylinder making 187 horsepower, and a SKYACTIV®-G 2.5 Dynamic Pressure Turbo four-cylinder making up to 250 horsepower. A hybrid powertrain will be offered sometime in 2023.
A standard all-wheel-drive (AWD) layout is one confirmed aspect. That plays into the off-road-ready nature and gets better with a ruggedized exterior. It also gets better with the all-new Mazda intelligent Drive Select (Mi-Drive) system, optimizing the ride for off-road or sporty driving, and even towing on turbo models. A six-speed automatic transmission is expected to come standard on all models in the 2022 Mazda CX-50 range, and so are SKYACTIV®-VEHICLE DYNAMICS with G-Vectoring Control Plus.
2022 MAZDA CX-50 Interior & Tech
The 2022 Mazda CX-50 interior has a focus on luxury but also a design inspired by the gear you use on your adventures. Premium materials greet you, starting the show with available Terracotta leather upholstery and accent stitching. A dashboard-integrated touch-screen infotainment system, an available panoramic moonroof, and much more continue it. But beyond being comfortable and connected, it's designed for your lifestyle. The cargo floor is lengthened, and the liftgate is designed to open in the perfect position for loading gear.
We can tell that the interior will be filled with many more aspects to get excited about, but a full, official list will arrive with the 2022 Mazda CX-50 release date.
2022 MAZDA CX-50 Features
Likewise, many of the features are still unconfirmed. The Mi-Drive system is joined by more adventure-ready features like high-strength roof rails designed to haul wilderness gear like rooftop tents. For off-road enthusiasts, photos suggest that a set of all-terrain tires will be an available feature to tackle the wild. There are also the sleek LED headlights, which we expect to offer the advanced Adaptive Front-lighting System like other new MAZDA SUVs.
As for the rest, we'll have to wait for the 2022 Mazda CX-50 release date to arrive.

2022 MAZDA CX-50 Price
Like the release date, the 2022 Mazda CX-50 price range hasn't been officially confirmed. That said, speculation naturally puts it around the same, if not a bit higher, than a new Mazda CX-5 with an AWD layout. The starting price is $27,945 MSRP1 for one, and the Mazda CX-50 should start at around that mark.
Welcome the 2022 MAZDA CX-50 Release Date With Us
When the day comes, we'll be your source for a new Mazda CX-50. Thanks for learning about this new MAZDA SUV, don't hesitate to contact us with any questions, and once we get one in stock, contact us to set up a test drive at your leisure.
Frequently Asked Questions
When will the MAZDA CX-50 be available?
The 2022 Mazda CX-50 release date is currently unconfirmed. That said, the word is out that production will start in early 2022 at the Huntsville, Alabama, factory, and sales will begin in spring 2022. While no specific day is given, we should receive official details as the date draws closer.
Is the MAZDA CX-50 going to be all-wheel drive?
Yes. While many MAZDA SUVs offer it as an available feature, the Mazda CX-50 will come with standard AWD. Better yet, it's an advanced AWD system, enhanced by the new Mazda intelligent Drive Select (Mi-Drive) system for off-road adventures, sporty corner-carving, and even towing. Increased ground clearance and expected all-terrain tires as an available feature should take it even further.
What kind of engine does the MAZDA CX-50 have?
Details on the Mazda CX-50 engine currently suggest it will have a four-cylinder engine. That said, we expect engine choices to be similar, if not the same, as what you get with a 2021 Mazda CX-5. Namely, we expect the SKYACTIV®-G 2.5-liter four-cylinder with 187 horsepower and the SKYACTIV®-G 2.5 turbocharged four-cylinder with up to 250 horsepower to power the Mazda CX-50. As well, a hybrid version of the Mazda CX-50 is expected to arrive after the gas-engine versions.
---
Make an Inquiry
---
1MSRP excludes taxes, title, license fees and $1,175 destination charge (Alaska $1,220). Vehicle shown may be priced higher. Actual dealer price will vary. See dealer for complete details.