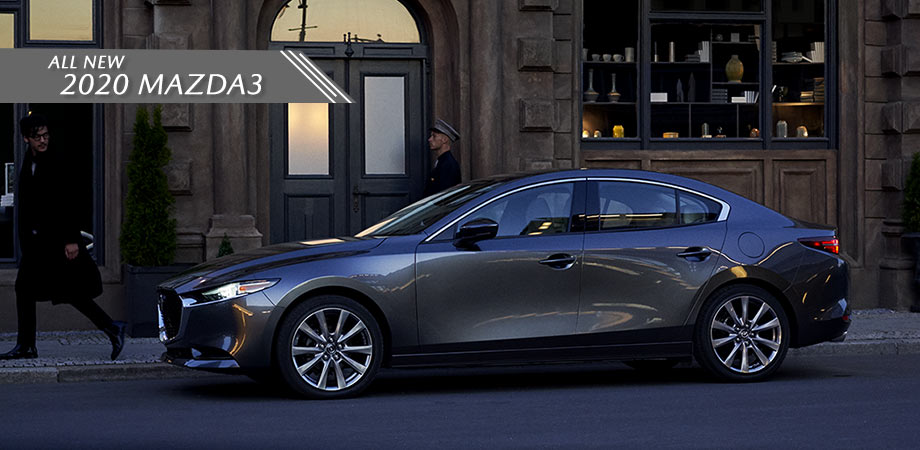 The new 2020 Mazda3 offers an upscale interior, a silent cabin and handsome exterior styling. Did we mention that it's also affordable? If you're interested in upgrading to a new vehicle, consider the new Mazda 3 sedan or the 2020 Mazda3 hatchback. Either version of the Mazda3 will serve you well.
Our Honest MAZDA3 Review
The 2020 Mazda3 update will bring many changes to your driveway, including an entirely revamped safety suite. The updated safety features on the new Mazda3 will put it in ranks with top-rated vehicles on the market. However, with the 2019 Mazda3 sedan already holding the IHHS Top Safety Pick, the only competitor worth noting is the prior year model. When it comes to a comparison of the 2019 Mazda3 vs. the 2020 Mazda3, we think the newer model will reign supreme. The updated sedan will feature a range of intelligent safety systems, including:
    
Blind Spot Monitoring
    
Adaptive Cruise Control
    
Automatic Braking
In addition to the safety features, the new Mazda3 vehicle is set to offer an available i-Activ AWD® system that will react to traction loss before it happens.
The interior of the new Mazda3 highlights all that is sophisticated about clever automotive design. Outfitted by the Mazda Takumi, the new Mazda 3 is tailored for the formidable bond between man and machine. Leather materials are scattered through the cabin and are soft to the touch, offering a warm feeling. Meanwhile, a widescreen display stretches across the dash for easy access.
Overall, we'd say that the Mazda3 adheres to the Japanese philosophy of "less is more" rather well. We invite prospective car buyers to stop by our dealership and see the evolution of the Mazda 3 sedan for themselves.
Premium Packages and Their Features
The updated model will also come outfitted in four distinct packages, each offering their own innovations. Below are the details and what to expect when you buy or lease the new Mazda vehicle:
Mazda3 Sedan
    
186 HP
    
8.8" Large Center Display
    
Excellent Highway MPG
    
Lane Departure Warning System
    
Driver Attention Alert
Select Package
    
Apple CarPlay Connectivity
    
186 HP
    
Rear Cross Traffic Alert
    
Blind Spot Monitoring
    
18" Alloy Wheels
Preferred Package
    
186 HP
    
Heated Front Seats
    
Driver's Seat Memory
    
Bose 12-Speaker Premium Sound System
    
8-Way Power Driver's Seat
Premium Package
    
186 HP
    
Leather Seats
    
Adaptive Front-Lighting System
    
Power Sliding-Glass Moonroof
    
Active Driving Display
When is the 2020 MAZDA3 Release Date in the USA?
It appears that the 2020 Mazda3 sedan and the 2020 Mazda3 hatchback models will release before the winter of 2019, making them accessible to shoppers in South Florida.
If you would like to enjoy the prowess of a new Mazda 3, please apply for financing prior to visiting Dyer Mazda. We offer competitive rates, and the online application process ensures that you will spend less time with the dealers and more time behind the wheel!